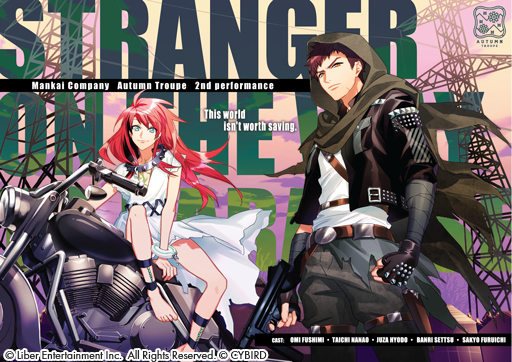 On February 12 (Pacific Time), A3! English will start its next Event, The Stranger!
The Stranger
The Event Story follows Autumn Troupe's preparation for their 2nd play as Lead Actor Omi and 2nd Lead Actor Taichi work together to put on a successful performance.
Watch as Omi tries to overcome the ghosts of his past and rediscovers the reason he truly started acting.
Meanwhile, Taichi does his best to help Omi on his journey of self-discovery, and also works on channeling his more feminine side for his first female role!
The Stranger will be a Troupe Event, where players do Event Practice to trigger Event Shows – succeeding at Event Shows nets players item drops as well as Event Pts, which determine Event Ranks.
Players who meet Event Pt goals or reach high Event Ranks are eligible for special prizes including consumable in-game items as well as SR and SSR Actor cards!

The following cards are given to players for Ranking in or for reaching Event Pt goals (details are available in-game in the Event Prize list on the Event Page):
SSR [Picture Perfect] Omi
SR [Glasses Debut] Banri

In addition, the accompanying Limited Time Tryouts for The Stranger, the No Man's Land Tryouts, will be starting from 2/9 (Pacific Time)!