A3!'s Event 'A Clockwork Heart' opening on 4/20 (PT), Tryouts from 4/16 (PT)!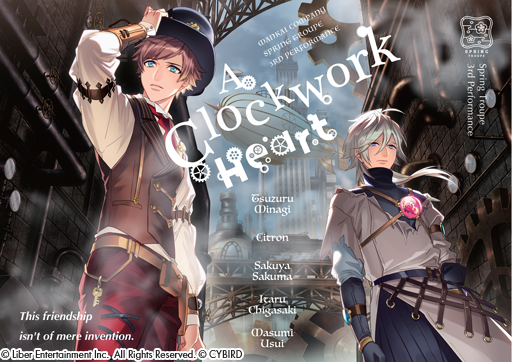 On April 20 (Pacific Time), A3! English will start its next Troupe Event, A Clockwork Heart!
A Clockwork Heart
The Event Story follows Spring Troupe's preparation for their 3rd play as Lead Actor Tsuzuru and 2nd Lead Citron take on Lead Roles for the first time. The Mankai Company's first steampunk-inspired performance tells the story of a reclusive alchemist named Luke (played by Tsuzuru), who uses his abilities to create his first friend, the homunculus S (played by Citron), in a society where the creation of such beings is illegal.

In the Event Story, Tsuzuru finds himself suffering from a debilitating bout of writer's block. He has a hard time finding a good ending for the play, until someone from Tsuzuru's past comes to Tsuzuru's aid with some needed emotional support... Meanwhile, Citron does his best to raise Tsuzuru's spirits by establishing the ManMan Grand Prix, the Mankai Company's first inter-troupe comedy contest!
A Clockwork Heart will be a Troupe Event, where players do Event Practice to trigger Event Shows – succeeding at Event Shows nets players item drops as well as Event Pts, which determine Event Ranks. Players who meet Event Pt goals or reach high Event Ranks are eligible for special prizes including consumable in-game items as well as SR and SSR Actor cards!
The following cards are given to players for Ranking in or for reaching Event Item goals (details are available in-game in the Event Prize list on the Event Page):
SSR [To My Dearest Friend] Tsuzuru
SR [Tin-Plated Memories] Sakuya

In addition, the accompanying Limited Time Tryouts for A Clockwork Heart, Cogs of a Waking Dream, will be starting from 4/16 (Pacific Time)!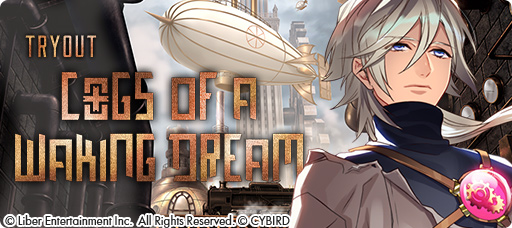 For these Tryouts, players can use Gems to get steampunk-themed Actor cards that offer bonuses during the Event! These Actors include:
SSR [Longing From the Carriage Window] Citron
SR [Charm of a Child at Heart] Itaru
R [A Clockwork Heart] Masumi

In addition, all cards obtained as Event Item rewards and during the Tryouts come with special Backstage stories that can't be found anywhere else!

But wait, there's more!
By achieving 100% completion for the A Clockwork Heart Event Practice and completing an Event Show, players will also be able to unlock its theme song, "Omoide no Nejimaki" for their in-game jukebox!