A3!'s Event 'Operation: Campfire Bonds' opening on 1/26 (PT), Event Tryouts from 1/23 (PT)!
The following cards will be given to players for Ranking in or for reaching Event Item goals (details are available in-game in the Event Prize List on the Event Page):
SSR [Summer Dare] Citron
SR [Triangle Search Party] Misumi

In addition, the accompanying Limited Time Tryouts for the Operation: Campfire Bonds Event, the Camp! Camp! Camp! Tryouts, will be starting from 1/23 (Pacific Time)!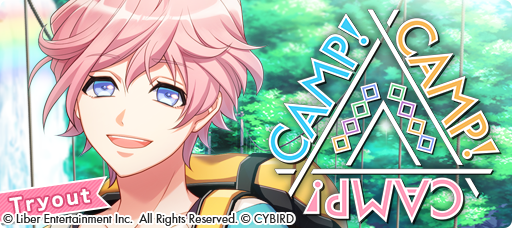 For these Tryouts, players can use Gems to get camping-themed Actor cards that offer bonuses during the Event! These Actors include:
SSR [Take My Hand] Muku
SR [No Signal] Itaru
R [Catch of the Day] Sakuya

In addition, all cards obtained as Event rewards or during Tryouts come with special Backstage stories that can't be found anywhere else!

If you haven't already, be sure to download the A3! app and try your hand at the Operation: Campfire Bonds Event! You can also follow A3! on social media for more updates!