A3!'s Event 'Blazing Beachside Passion' opening on 5/11 (PT), Tryouts from 5/6 (PT)!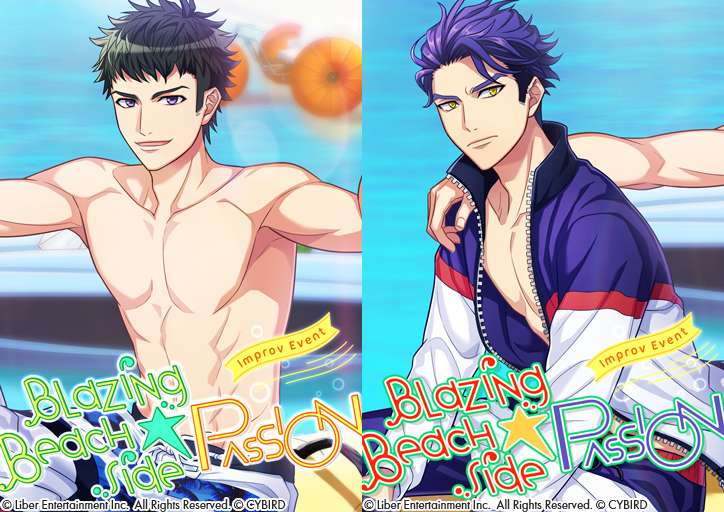 On May 11th (Pacific Time), A3! English will start its first Improv Event, Blazing Beachside Passion!
Blazing Beachside Passion
The Event Story follows the Mankai Company's trip to the beach, where members from all four troupes come to help out at Omi's friend's beach hut while enjoying some activities out in the sun. Things seem to be going well, until it becomes clear that a memory of the beach from Juza's past is affecting his relationship with Muku. The only thing that will help Juza get out of his funk is a scheme from his fellow actors... involving an Improv Battle with another beach hut staffed by rival actors?!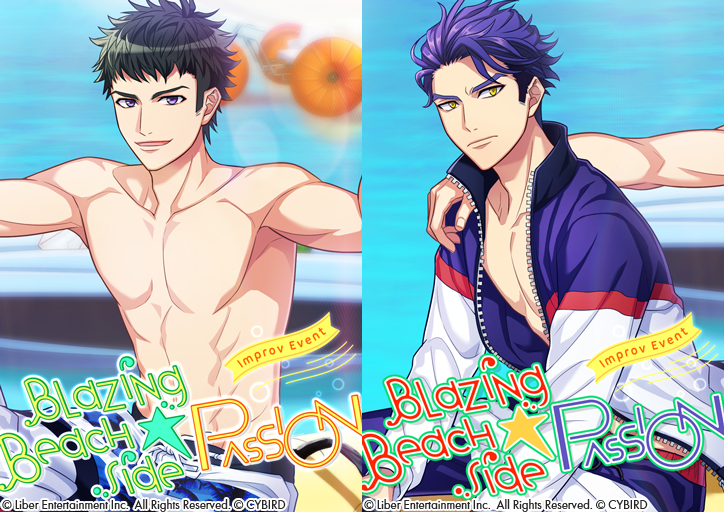 Blazing Beachside Passion will be A3! English's first Improv Event! During Improv Events, players do Improv Battles against rival theater companies to get Tips from the crowd. Players can get Tips regardless of whether they win or lose but winning with higher point totals results in a higher number of awarded Tips. Players can unlock the Event Story and get items based on the total number of Tips earned, and can spend Tips to do the Kame Gacha, with each Kame Gacha containing a prize. The Kame Gacha prizes include in-game items ranging from Gems, Coach Cards, Premium Tokens to event-exclusive SR and SSR Actor cards!

The Kame Gacha are divided into three boxes: Red, Blue and Yellow. Prizes pulled from the Gacha are in random order, with a fixed number of prizes available per each box. Players can keep pulling until they have received every prize from the box upon which the box's contents will reset. In addition, each box contains 1 copy each of the Event SR and SSR (please note that unlike the other Prizes, these copies of the Event SR and SSR are only available once per box). The Limited Time Actors available in the Kame Gacha for this Event are:
SSR [Seaside Driver] Tasuku
SR [Omi's House is Now Open!] Omi


A more detailed explanation of Improv Events is available in-game, so be sure to check out the in-game tutorials on how to play Improv Events and Kame Gacha!

In addition, the accompanying Limited Time Tryouts for Blazing Beachside Passion, Hot Summer Gaze will be starting from 5/6 (Pacific Time)!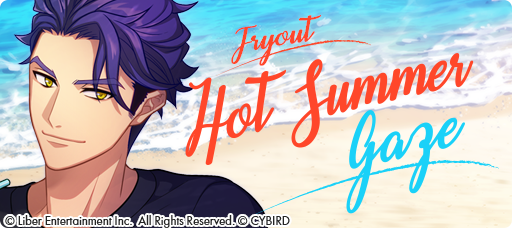 For these Tryouts, players can use Gems to get beach-themed Actor cards that offer bonuses during the Event! These Actors include:
SSR [Shoreline Sentimentality] Juza
SR [Welcome to Triangle Beach!] Misumi
R [Impromptu Lifeguard] Sakyo

In addition, all cards obtained as Kame Gacha rewards and during the Tryouts come with special Backstage stories that can't be found anywhere else!

If you haven't already, be sure to download the A3! app and try your hand at the 'Blazing Beachside Passion' Event! You can also follow A3! on social media for more updates!