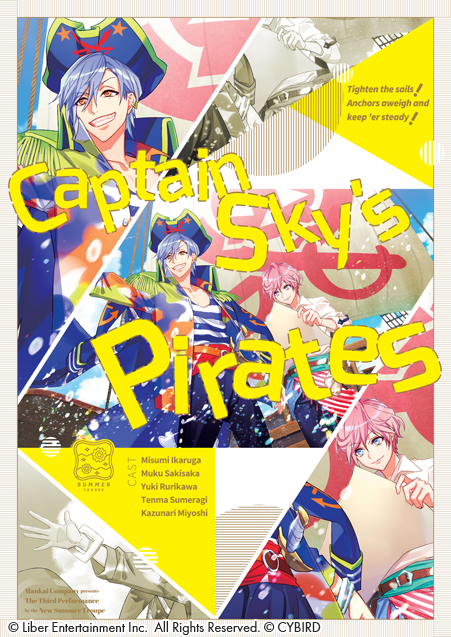 On May 28 (Pacific Time), A3! English will start its next Event, Captain Sky's Pirates!
Captain Sky's Pirates
The Event Story follows Summer Troupe's preparation for their 3rd play as Lead Actor Misumi and 2nd Lead Actor Muku work together to put on a successful performance. The Mankai Company's first pirate-inspired performance tells the story of a destitute pirate (named Sky) and his first mate Henry (played by Muku) as they sail on their pirate ship (while evading the navy!) on their search for treasure!

In the Event Story, Misumi starts having trouble recalling his memories of his beloved grandfather, Mankai Company's former scriptwriter Hakkaku Ikaruga, who initially sparked Misumi's interest in acting. Summer Troupe bands together to help find something to remind Misumi of his grandfather, until it comes clear that no traces of him remain in the dorm. Cheering up Misumi may even involve asking Misumi's long-estranged family for help, but it will be up to Muku to find a way to get them to help!
Captain Sky's Pirates will be a Troupe Event, where players do Event Practice to trigger Event Shows – succeeding at Event Shows nets players item drops as well as Event Pts, which determine Event Ranks. Players who meet Event Pt goals or reach high Event Ranks are eligible for special prizes including consumable in-game items as well as SR and SSR Actor cards!

The following cards are given to players for Ranking in or for reaching Event Pt goals (details are available in-game in the Event Prize list on the Event Page):
SSR [Triangle Explorer] Misumi
SR [Stoic Willpower] Tenma

In addition, the accompanying Limited Time Tryouts for Captain Sky's Pirates, the Treasured Days Tryouts, will be starting from 5/25 (Pacific Time)!