Ep3. Hypnosis Mic: Division Rap Battle: Interview for actors; Look Back the 2nd & 3rd Live Shows.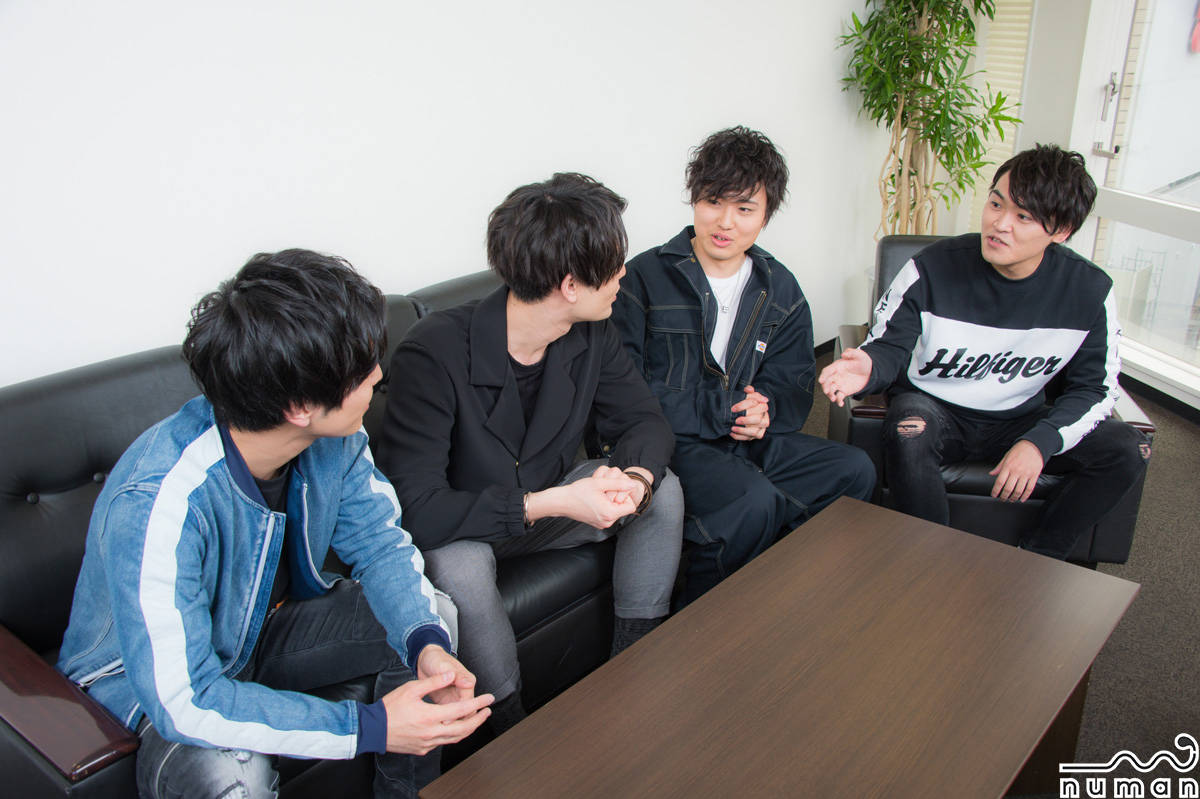 We are reporting a long interview in four parts for members of Hypnosis Mic: Division Rap Battle, Haruki Ishiya × Wataru Komada × Yukihiro Nozuyama × Ryuichi Kijima. For the 3rd episode, we mainly asked about their memory of the previous live shows and favorite songs.
We are reporting a long interview in four parts for members of Hypnosis Mic: Division Rap Battle, a rap-song project with cartoon characters.

For the 3rd episode, we mainly asked about their memory of the previous live shows and favorite songs.

One of members from each division attends: Haruki Ishiya, playing Jiro Yamada for Ikebukuro Division "Buster Bros!!!"; Wataru Komada, playing Jyuto Iruma for Yokohama Division "MAD TRIGGER CREW"; Yukihiro Nozuyama, playing Dice Arisugawa for Shibuya Division "Fling Posse"; and Ryuichi Kijima, playing Hifumi Izanami for Shinjuku Division "Matenro."

What is Hypnosis Mic: Division Rap Battle?
Hypnosis Mic: Division Rap Battle, a rap-song project with cartoon characters played by twelve voice actors; Subaru Kimura, Haruki Ishiya, Kohei Amasaki, Shintaro Asanuma, Wataru Komada, Shinichiro Kamio, Yusuke Shirai, Soma Saito, Yukihiro Nozuyama, Sho Hayami, Ryuichi Kijima and Kento Ito. Members are divided into four "Divisions," Ikebukuro, Yokohama, Shibuya and Shinjuku to battle with their rap music.

Looking Back the 2nd & 3rd Live Shows! Performance Method Found Through Rap Music
A live show held on November 2018 at Zepp Diver City, Hypnosis Mic: Division Rap Battle - 3rd LIVE @Odaiba got a great success with live broadcasts at 116 places nationwide.

Ishiya: Scenario Liar (a song of Gentaro Yumeno played by Soma Saito) took my breath away.

Komada: It was the first live for Saito-kun, but the quality of his performance was awesome.

Ishiya: Though I had known that he amazingly got into the character since the rehearsal, he shifted into higher gear at the actual performance. Also, other members were more passionate for their songs with higher quality at the 3rd live show than the 2nd one (Hypnosis Mic: Division Rap Battle - 2nd LIVE @Shinagawa). Of course, one of the causes is that we have just gotten used to live shows. I believe that we can show different performance if we re-record each song now.

Komada: You always say that, Haru-kun. You want to make the different version each year like version 2018, version 2019 or so. *Laugh*

Nozuyama: If we do that, we couldn't release new songs at all. *Laugh* In fact, even we ourselves didn't know the story from the beginning. We've gradually enriched our understanding for characters as the drama part proceeds.

For example, the episode that Hifumi points out Gentaro's clothes let us know something behind that.   Not only our skills but also our understanding characters' backgrounds influence our performance. As Haru-san mentioned, knowing the current storyline, we could make them in a different way if we sing each song.

Do you feel your performance method has changed through live shows of Hypnosis Mic?

Kijima: For the 2nd Live, I could concentrated on just playing the stage and had neither time nor energy to think about other things. Regarding to the 3rd Live, however, I could get into my character little by little since I had experienced the 2nd one.

Live shows made me realize that rap music is one of the expression methods once again. I learned that rap music was an extension of a play, seeing performances especially by (Kento) Ito-kun and (Sho) Hayami-san. They let me know that it is important to sympathize with audience and boost each other.

I felt that rap music gave words more weight, which made me to have interest in expression more than before. I'm looking forward to seeing how I myself could grow up and make positive impacts on people through Hypnosis Mic from now on.

Komada: Demo tapes usually have high-quality test recordings by the rappers who created the songs, which could be released as it is. At first, it was enough for us just to copy what they did. Recently, however, they have taken our performance into consideration and express in songs with their superior technique.

Because of that, we can focus on our own performance rather than copying what they did in demo tapes. We can consider how to make the songs more fascinating with our own sense and idea.

We get various information about the characters and stories. I know the fans enjoy considering them, too. However, I want to have my own mind and not to be too much influenced by such information.

I should grasp the roots of Jyuto Iruma's personality and adjust my understanding depending on how storylines are going, then express it in next songs.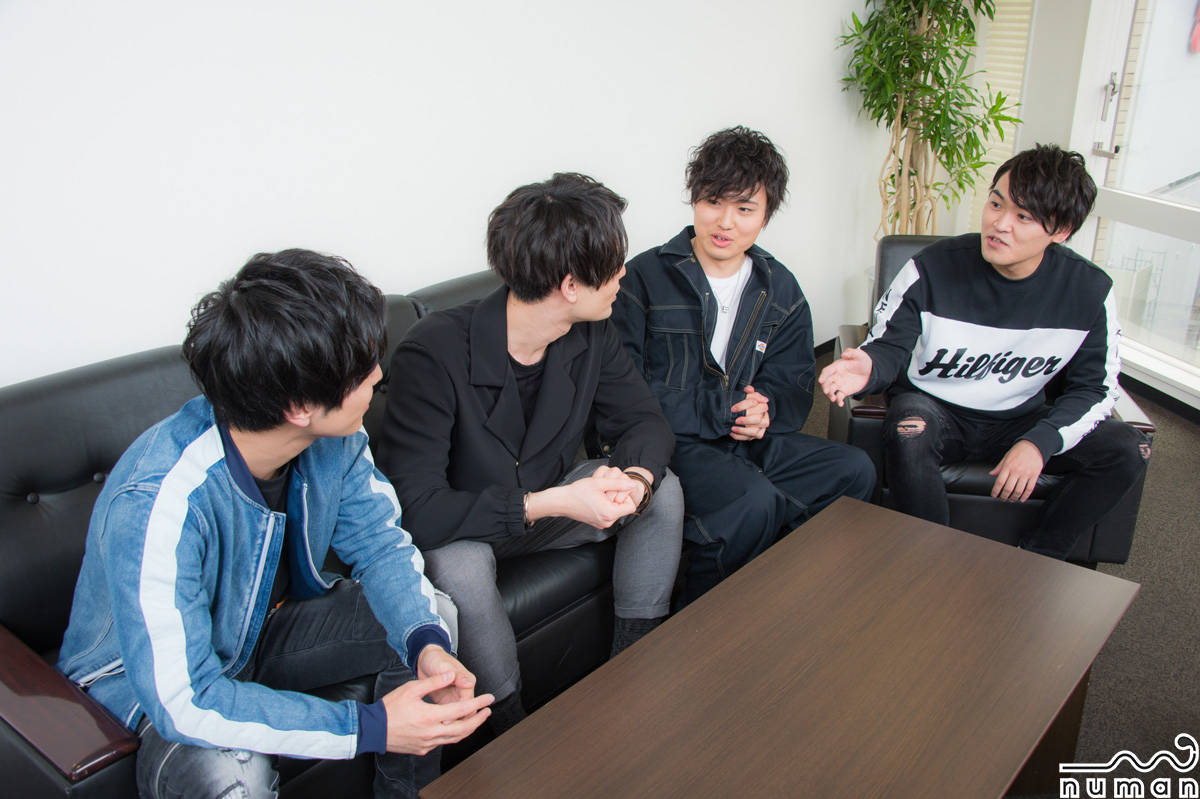 12 Members Sing Sensenfukoku Together!? Everyone Wants To Try Champagne Gold!
After the live shows, which do you want to try out of all songs by other members or divisions?

Komada: Champagne Gold.

Nozuyama: Champagne!

Ishiya: I want to try Champagne at least once. Wanna do Champagne call!

Nozuyama: You seem get a kick.

Kijima: Yes, I do!

Komada: I want to play Jyuto to do the champagne tower before prisoners in the cage. It should be so fun. I long for it even more because Yokohama Division doesn't have party tunes.

All: That makes sense!

Komada: I like to try such a pump up song. I think Shibuya Division is also party-ish.

Nozuyama: Yes, we are party-ish.

Kijima: What the hell does party-ish mean? *Laugh*

Nozuyama: Of course I like Champagne Gold, but actually my favorite is Ikebukuro West Game Park by Ikebukuro Division. I frequently say this to Haru-san.

Ishiya: Yes, you do. *Laugh*

Nozuyama: I say "What the hell is that song!? It is too cool!" I honestly want to see the performance as an audience… Because I understand that I can't do it, I enjoy it at rehearsals as much as possible.

I am so excited that Subaru-san gives me sign   because no other guest is there at that time. *Laugh* I am a fan of Buster Bros!!!

Kijima: I know what you mean. Jiro's Sensenfukoku [Declaration of battles] is super cool, too.

Ishiya: We have various songs, but I think that Sensenfukoku is the best for the opening song. We slightly changed the singing way between the 2nd and 3rd live shows. The 2nd one was more aggressive.

Komada: This song pumps us up!

Kijima: I wanna try Sensenfukoku with all twelve members. *Laugh*

All: *Laugh*

Nozuyama: We can play Sensenfukoku in various ways.

Nozuyama: In the end, we say "Hey yo" together.

Ishiya: My favorite performance is Saburo's New Star.

Kijima: I agree. New Star is cool, too.

Ishiya: I like the photo, too. When Ama-chan looked upward, the title "New Star" appeared in the screen behind him at the same time. Ama-chan himself said it was the best shot.